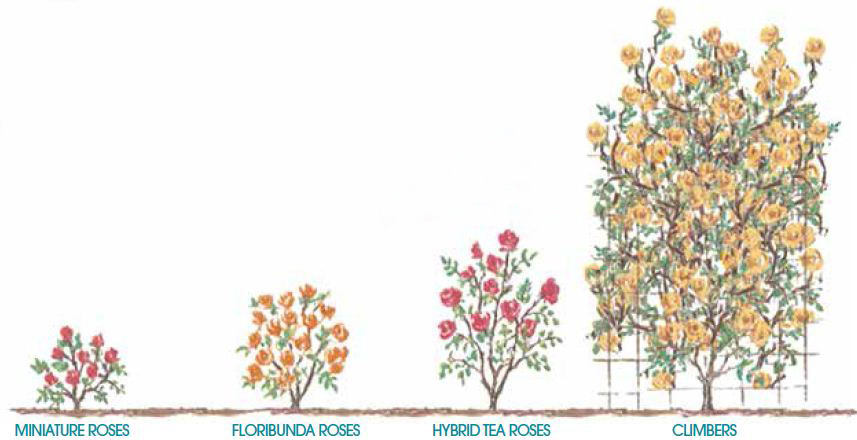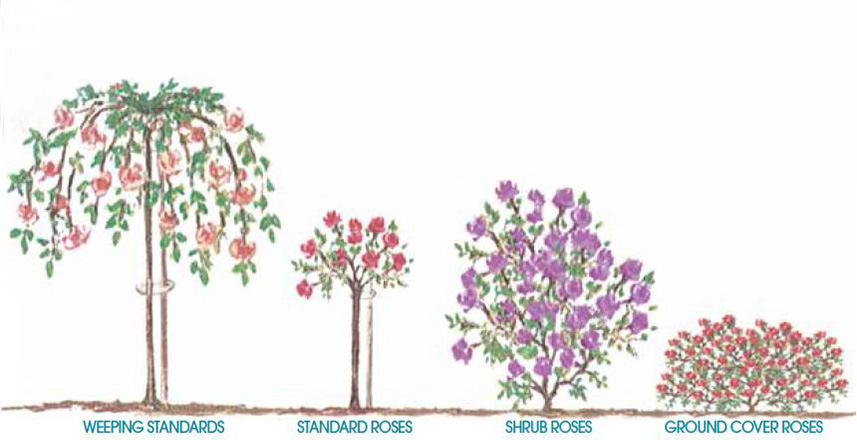 How To Choose A Rose
The key is to choose a style of rose before choosing the flower shape and colour you want.



Step One: The first step in deciding which rose to buy is to determine how you want your garden to look and the purpose of the rose, for example, do you want it to climb along a fence, be the border of a garden bed, the display at the front of your house, will it be planted in a pot, etc.

Step Two: Consider the area you will be planting the roses in. Will there be enough room for the rose without overcrowding the growth or root systems?
Avoid planting too close to established shrubs, trees and other roses as overcrowding your plants can cause many issues such as dry roots, nutrient deficiencies and decreased access to sunlight. This will also increase the risk of disease such as mildew.

Remember whatever grows above the soil is mirrored below the soil in the root growth (just like a tree). 

Roses need at least 6 hours of direct sunlight per day, preferably more. Although shaded areas will allow roses to do well, the quantity of the flowers will diminish with the percentage of shade.

Step Three: The next step is to decide which category of rose will have the best growth habit for the look you wish to achieve. You can read about the different growth habits below.

Step Three: Choose a variety within the category that you like - take note of the various specifications of each variety, such as the health, growth habits, flowering habits, bloom colour, fragrance.

Always contact us if you are unsure or need help.
Rose Growth Habits
Roses grow in all different shapes and sizes.
From tiny miniatures only 30cm high to climbers which can sprawl over a house.  From low, wide ground covers which look spectacular on masse to large colourful hedges created by taller shrub roses. Grow them as flowering shrubs in mixed beds and borders, screen a fence, trail over arches or arbors, cascade down a bank or over a stone wall - the list could go on!

There is a rose for nealy every purpose and function in your garden. You are limited only by your imagination!
The key is to choose a style of rose before choosing the flower shape and colour you want.

Be aware that there are many cross over varieties in each section which fit into two or more classifications.
The height of the plant will be indicated if different to the general height of that classification.
Miniature Roses
These come in three different shapes of growth but are generally the smallest of the roses, with flowers that are less than 5cm across. They are usually less than 50cm high and can be used in pots, as edging for a garden bed or in rockeries.
Mini Hybrid Teas grow up in a V shape with lots of flowers in the classic shape at the top of the plant.
Mini Floribundas can grow in more of a dome shape with flowers all the way around the plant.
Plant 30cm apart.
Shop Miniature Roses

Floribuna Roses
Floribunda or Cluster Flower roses give a mass of colour over a long period. Most grow to 1.2m high and 1m wide in a dome shape with lots of flowers on shorter stems all over the bush. Very spectacular in the garden and most can be picked and admired inside, they just may not last as long and have shorter stems.
Plant 1m apart or for a low hedge, 75cm.
Shop Floribunda Roses

Hybrid Tea
These are the most recognised roses. They grow in a V shape to 1.5m high and 80cm wide. The base of the bush will have a skeleton of branches, the middle is generally leaves and the top will have long stems and the beautiful cut flower type bloom.
Plant 1m apart.

Shop Hybrid Tea Roses

Climbers and Ramblers
Climbers can be used in a multitude of situations, providing a mass of colour.
They can grow in three different sizes.
Ramblers - tend to give heavy vigourous growth grow between 4 to 6 meter spread
Climbers - are easier to grow and can get between a 3 to 4 meter spread
Pillar climbers - generally better for a more controlled growth up verandah posts or small arbours.  They grow up to 2.5 meters in most situations.

Climbers will need a framework to climb on and this can be in any shape. If there is no frame they will grow as a relaxed bush but can get very messy.
Remember that they will only grow upward so have a plant on each side you wish to cover.
It is important to tie the long canes into a horizontal position to promote denser growth and more blooms. Do not prune until the third or fourth season, just tidy the plant during the winter dormancy.
Plant 2 to 5 m apart.
However the distance will depend on the coverage you require. At the very minium 1.5m apart.
Shop Climbing Roses

Shrub Roses
Gererally under this classification is the older species roses, Modern Shrub roses and the David Austin English roses. They are very different in their growth habit foro plant to plant and many of the older species will only flower in the Spring. Look for the words Recurrent or repeat flowering if choosing an older variety to get multiple flushes of bloom.
Many of the Modern Shrubs and the David Austins can be used as patio climbers and others make great hedges. Most grow in a relaxed form and generally have colourful hips at the end of the flowering season.
Plant 1m apart.

Shop Shrub Roses

Ground Cover Roses
They flower with enormous freedom and contiuity, providing a mass of colour over a very long period.  They are very easy to grow, being extremely hardy and disease free.  Ideal for mass planting.
Growth is generally low and spreading from 30cm to 50cm tall and at least 1m wide. 
Plant approximately 60cm to 1m apart.

Shop Ground Cover Roses

Standard Roses
Standard or Stem roses, are grafted at a height of 90cm or patio standards at 60cm and are a variation of the normal bush rose. Ideal for adding height to a garden.They can add a formal appearance if planted in a row.
The shape of the head of the standard will depend on the variety chosen.
On Average:
Hybrid Tea varieties will grow up in a V shape from the graft.

Floribunda varieties will grow in a ball shape.

Ground covers will be shaped like an umbrella.

David Austins will generally grow in an inverted drip form.
Please note that this is only a guide and each type will have variations.

Plant between 1 to 1.2m apart.

Shop 90cm Stemmed Standard Roses
Shop 60cm Stemmed Standard Roses

Weeping Standard Roses
Grafted onto tall rootstock at a height of between 1.2m and 1.65m. They can either be semi or fully pendulus. Fully pendulus is a variety which grows long pliable canes with a cascading effect, often reaching ground level. Semi pendulus reaches around 2/3rds of the way down.
Be aware the Iceberg and the Burgundy Iceberg short weepers are the exception to this as they are more tall standards than weepers.
Generally you do not prune these each winter but only clean up any dead wood or if they are getting too big. Keep the long trailing canes as much as possible. Some varieties will grow up for a year or two then the weight of the flowers will pull the canes down to create the weeping effect.
Shop 1.2m Stemmed Weeping Standard Roses
Shop 1.65m Stemmed Weeping Standard Roses

Flower Types