Perfume Oil - Dark Desire (15ml Roller Bottle)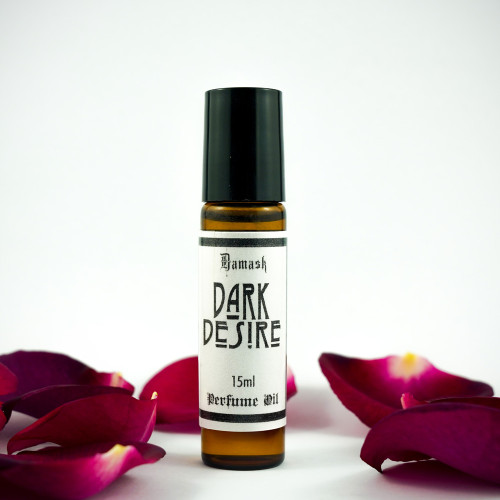 Treloar Roses is proud to have worked with Master Perfumer, Jonathon Midgley of Damask Perfumery to create a unique fragrance formulated from our own Dark Desire Rose.
This is one of the last perfumes created by this genius perfumer and is designed to be as close to the rose as possible.  If you have this rose growing in your garden, then you will love to have the fragrance to carry with you.
The floral and fruity aspects of the fragrance resonate in total harmony.  The classic notes of rose are enhanced with a touch of lemon and a base note of rose geranium.  Litchi gives a bright lively note.  Also present are the scents of elder flower, peach and plum.  The scents rest on a sweet bed of honey and earth tones.
Jonathon not only worked from the blooms he had growing in his garden but added notes of violets, honey, lychee and black pepper to enhance the natural perfume.
The fragrance is supplied as a Perfume Oil in 15 ml roll-on bottles.
You will need only a small amount to last all day.
If you have the desire to find out more about Damask Perfumery and the other amazing creations from this company, please go to
http://www.damaskperfumery.com.au/
Disclaimer:  The last addition to any perfume is the chemical found in the wearers skin.  This may alter the final fragrance to create a unique and personal signature perfume. 
Allergen Statement
Dark Desire is a perfume oil strictly formulated and composed of synthetic and natural aromatics in accordance with the guidelines set forth by the International Fragrance Association of Geneva (IFRA),
DiPropylene Glycol (DPG) is the perfume oil used in this product at 80% (the other 20% is fragrance concentrate). DPG is not an allergen. DPG has a neutral odour and does not require preservatives. It is clear, practically colourless liquid. DPG is used in cosmetics and personal care products, in the formulation of hair and bath products, eye and facial makeup, fragrances, personal cleanliness products, and shaving and skin care products. (CAS number: 25265-71-8)
This product is also covered by an Animal Free / Cruelty Free certificate.