First Crush (Potted Roses)

Floribunda Rose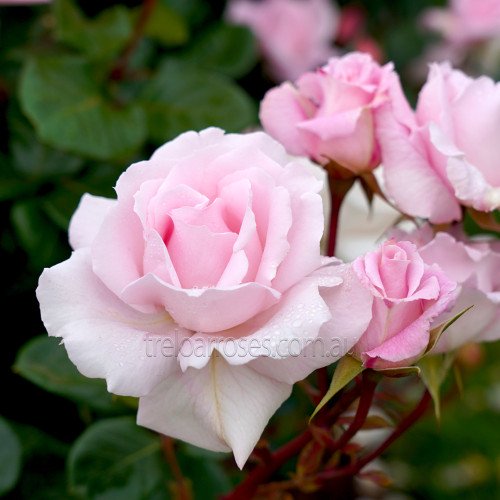 (Kormaccap) - This variety will stand apart with its exceptional fruity fragrance and healthy foliage. The high-centred buds open to nostalgic shaped cups in a delicate pastel pink. A very bushy plant with vigorous growth to an average height of 1m tall x 80 cm wide.
Fragrance
This rose has an exhilarating and distinct perfume with its top notes reminding one of fine champagne and the fresh air after a summer rain. These scents are infused with the fresh scent of lemon verbena. When the bloom is fully open sweet plum notes predominate with lingering notes of ripe apricot. To this wonderful array of scents add a touch of powdery vanilla, heliotrope and young elder flowers that complete the rose fragrance.
Peak Fragrance:  In the afternoon.
Plant Information
Category
Bush Rose
Breeder
Kordes' Roses
Kordes' Collections
Parfuma® Collection
Features & Growth Habit
Treloar's Health Rating
4 Star Health Rating
Growth Height (approximate only)
1m tall x 80cm wide
Flower Colour
Pink
Flower Size
Medium
Fragrance
Strong
Rose Type
Floribunda Rose
Ideal For
Planting In Pots
Yes
Tropical Climates
Yes
Other
Disclaimer
Every care is taken to provide accurate descriptions and information on each variety. Please note that characteristics will vary depending on the growing conditions. The information provided below may not be completely accurate for your climate or growing conditions.
The colour images and descriptions are to be used as a guide only. Every care is taken to accurately describe growth habits and reproduce the correct colour in images. However, other factors such as Australia's varied climatic conditions, seasons and soil type can affect blooming and rose growth.