2019 Collection No. 2 - David Austin Roses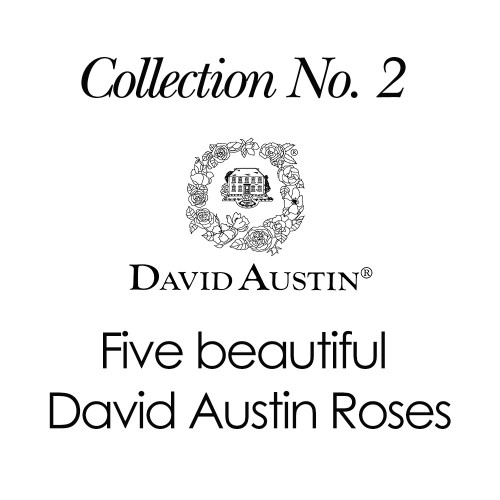 Five beautiful and highly popular David Austin varieties that will make a great addition to your garden.
This lovely collection includes:
1 x Boscobel
1 x Jude The Obscure
1 x Munstead Wood
1 x The Poet's Wife (2019 New Release)
1 x The Wedgwood Rose

All plants in this collection are supplied as bare rooted bush roses.

Each collection has been discounted to 25% off!
Receive FREE FREIGHT on your entire order when ordering a collection. Yes, this means you can order additional roses and still receive FREE FREIGHT*!! 
*Free freight offer is available for orders containing bush roses only and excludes any order containing standard or weeping roses. W.A. quarantine charge still applies.
BOSCOBEL
Perfectly formed, beautifully fragrant, upward facing blooms. A rich salmon pink with peach highlights clothed in an irresistible complex myrrh fragrance with hints of elderflower, pear and almond. The healthy bush grows to around 1m, in most areas, and is repeat flowering. For more information, click here.

JUDE THE OBSCURE
Very large, highly fragrant flowers that are incurving. Colour is pale yellow to apricot. Very strong, healthy growth that repeats well. There are few more magnificent roses than Jude the Obscure. 1.5m tall x 1.2m. For more information, click here.

MUNSTEAD WOOD

Large, velvety crimson blooms in the distinctive English style. Strong Old Rose fragrance. Medium size bush with good disease resistance. About 1m - 1.2m tall. For more information, click here.

THE POET'S WIFE
Large cupped blooms of a lovely rich yellow which pale as they age and are produced in small clusters.  The fully double blooms contain a wonderful fruity fragrance with hints of lemon.  The leaves are a shining healthy colour on a low rounded shrub to 1.2m. A very popular colour in the Austin series. Approx 1m tall x 1m wide. For more information, click here.

THE WEDGWOOD ROSE
The large blooms of soft rose pink, have a delicate, almost gossamer-like quality with a lovely fruity fragrance. The growth is exceptionally vigorous, sending up many shoots from the base and forming a healthy, large rampant shrub. We expect this rose to be even better when grown as a climber. Its ample foliage is dark green and glossy. 1.5m or 3m pillar. For more information, click here.