2019 Collection No. 3 - Our Favourite Roses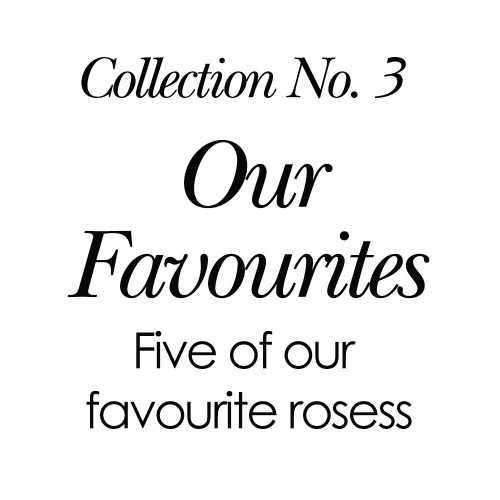 Five of our favourite roses in one collection. 

With over 500 roses in our list, it is not easy for a rose to place a spot in our top favourites. These fantastic roses have not only proven their health and disease resistance on numerous occasions, but have very desirable growth and flowering abilities is almost all climates across Australia. 
This stunning collection includes:
1 x Bordeaux
1 x Coconut Ice
1 x Fairytale Magic
1 x Perfume Passion
1 x Sunny Sky

All plants in this collection are supplied as bare rooted bush roses.

Each collection has been discounted to 25% off!
Receive FREE FREIGHT on your entire order when ordering a collection. Yes, this means you can order additional roses and still receive FREE FREIGHT*!! 
*Free freight offer is available for orders containing bush roses only and excludes any order containing standard or weeping roses. W.A. quarantine charge still applies.

BORDEAUX
Great for mass planting or for a splash of colour. This wine red floribunda has an abundance of large double cupped blooms accompanied by a subtle fragrance. Growth is upright and healthy up to 80cm high in most regions. Perfect for public spaces giving a high impact effect. Awarded GOLD MEDAL & BEST FLORIBUNDA OF TRIAL at the 2017 National Rose Trial Garden of Australia awards! For more information, click here.

COCONUT ICE
A gorgeous bi-colour of beautiful musk pink with a soft white on the reverse of each petal in an Old English form. The neat, upright bush grows to around 1.2m producing firm stems that hold clusters of three to five full blooms that have a mild fragrance. A unique new modern rose with dark green foliage that is very resistant to disease. Awarded SILVER MEDAL at the 2017 National Rose Trial Garden of Australia awards! For more information, click here.

FAIRYTALE MAGIC
This Award winning magical rose has not only received multiple gold medals but also the esteemed Golden Rose of Baden Baden in 2016.  Fully petaled, light pink blooms with an apricot center and an enchanting fragrance sit on an extremely healthy upright bush to 90cm tall.  The blooms are generally large for the size of the plant giving a fuller effect.  Great for borders and pots.  Large Hips in Autumn.  A very easy care rose that is highly recommended. For more information, click here.

PERFUME PASSION
A divine combination of health, form and fragrance reveals why this rose has won numerous awards. The beautiful pink blooms are produced in abundance on long, almost thornless stems, and are enhanced by the deliciously strong fragrance that keeps you coming back for more. This disease free Hybrid Tea will grow into a strong bush reaching 1.5m tall x 60cm wide. A carefree rose that is a must have! The most celebrated rose of 2012 at the 'National Rose Garden Trials' of Australia: Gold Medal, Best Hybrid Tea, Most Fragrant Rose and Best Rose of Trial. For more information, click here.

SUNNY SKY
Large elegantly shaped blooms in honey yellow sit regally on sturdy uniform stems, complete with a fruity fragrance. A prolific producer of blooms this bush has a spectacular health making it a carefree delight in your garden. Winner of numerous gold medals in trials overseas, this variety is in a class of its own. Excellent in a vase. Height 1.2m. For more information, click here.