2019 Collection No. 4 - Bee Friendly Roses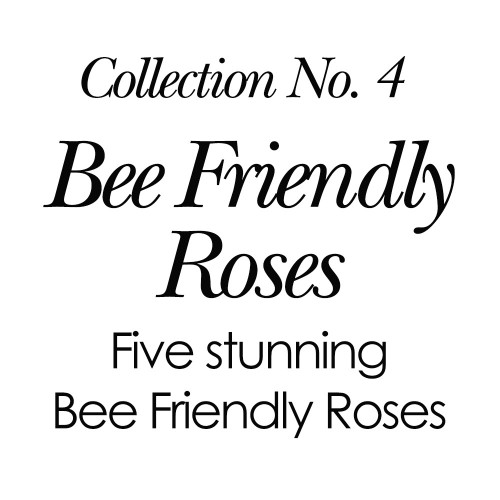 Create a bee friendly garden

with this collection of f

ive beautiful roses.



These five fantastic roses have single or semi-double blooms which allow the bees to easily access the stamens in the centre of the flower which hold the pollen (something roses have plenty of).

Not only do the bees LOVE these roses, they are highly disease resistant and produce a stunning display of colour with masses of blooms.

All five roses grow well in almost any climate and are suitable for planting in a pot, creating a hedge or companion planting.
This exciting collection includes:
1 x Eye Shadow
1 x Fire Opal
1 x Garden Friend
1 x Ice Princess (2019 New Release)
1 x Peach Profusion

All plants in this collection are supplied as bare rooted bush roses.

Each collection has been discounted to 25% off!
Receive FREE FREIGHT on your entire order when ordering a collection. Yes, this means you can order additional roses and still receive FREE FREIGHT*!! 
*Free freight offer is available for orders containing bush roses only and excludes any order containing standard or weeping roses. W.A. quarantine charge still applies.


EYE SHADOW
An interesting entry by Chris Warner into the ground covers. The blooms are produced in mid pink with the telltale Hulthemia dark pink eye that fades nicely in the aging bloom. It can grow to 60cm high but spreads well. Covered in awards from the Adelaide National Trials Garden Trials, it is a sure winner. For more information, click here.

FIRE OPAL
This stunning novelty rose will delight you with is charming array of semi double blooms. As beautiful as the name suggests the pale soft near white buds, blush pink in a dance with the sunlight as they open. Each large bloom is individually coloured and contain up to 16 petals.   A healthy rounded bush to 70 cm high is a delightful addition to any garden. Awarded BRONZE MEDAL at the 2017 National Rose Trial Garden of Australia awards! For more information, click here. 

GARDEN FRIEND
Truly a gardener's friend. An abundance of eye-catching blooms in a stable colour of intense pink. Add to this a healthy robust bush making it a great choice for mass planting, borders or pots. The flowers are a good size and framed by dark green leaves on a dense vigorous plant. 70cm tall. Awarded SILVER MEDAL at the 2017 National Rose Trial Garden of Australia awards! For more information, click here. 

ICE PRINCESS
A lovely new 'Bee friendly' rose with large open cupped blooms in off white with sun kissed pink edging. A wellshaped, low growing plant to 80cm to 1m high and 50 to 80cm wide on average and has a subtle fragrance. Perfect for pots and borders or a small garden. Very healthy.  For more information, click here.

PEACH PROFUSION
An explosion of pointed soft peach/apricot blooms with a cream reverse shower this neat, densely foliaged bush to 1m tall. Blooms will age slowly to a clean cream to highlight bud colour. Great for pots or landscaping, this bush can be shaped into any form with regular trimming creating an eye catching feature in your garden. Ideal for mass planting. Awarded Bronze Medal, Best Floribunda and Most Pest & Disease resistant rose at the 2012 National Rose Trial Garden awards. Grows up to 1m tall. For more information, click here.