We are well into summer and the yearly battle with the heat is upon us! For many regions across Australia we are experiencing extreme temperatures which put a strain on our roses. In this newsletter we give you tips and information for protecting your roses against the heat so you can still achieve those beautiful blooms we all desire.
Our 2019 NEW RELEASES have been announced. We have some incredible varieties coming onto the market this year and as usual they come with exceptional disease resistance. View below for a preview and follow the links for more information and the full range.
In this newsletter...
- 2019 New Releases
- The Bloomin' Bus Rose Farm Tours
- Summer Rose Care
- Avoiding the heat
- Glyphosate damage in roses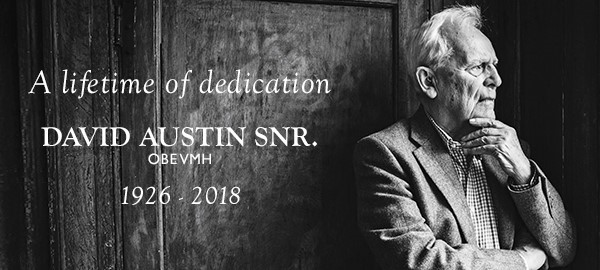 VALE DAVID AUSTIN OBE
It is with sadness we learn of the passing of one the world's most renown rose breeders - David Austin.
In an extraordinary career that spanned over 75 years he bred more than 200 English roses. His dedication brought fragrance and beauty to gardens all over the world.
Through his creations he leaves to the world a beautiful legacy that will live on forever. We say goodbye to one of the worlds rose legends David Austin.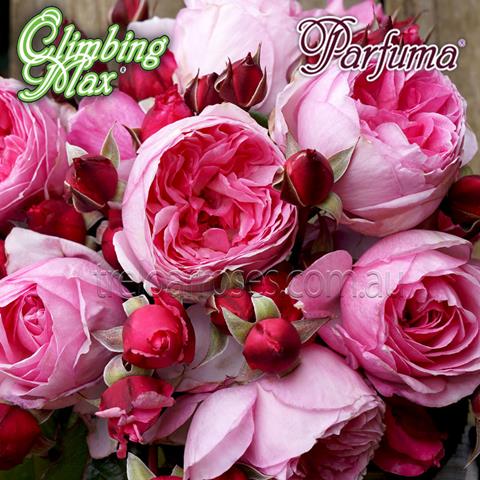 Kiss Me Kate - Climbing
A gorgeous soft pink climber with large, fully petalled blooms and a delicious fragrance.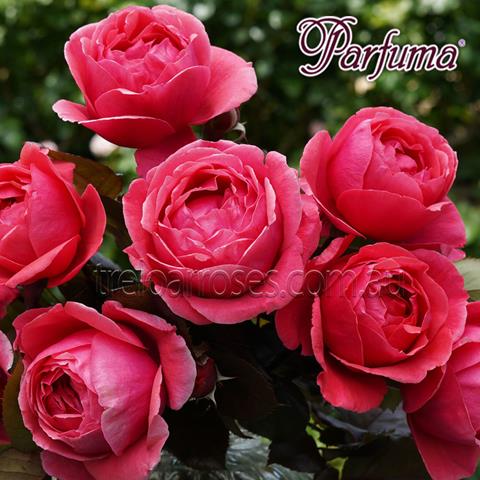 Fruity Parfuma
A must have for the fragrance alone!

Rich coral pink blooms with an intoxicating raspberry fragrance.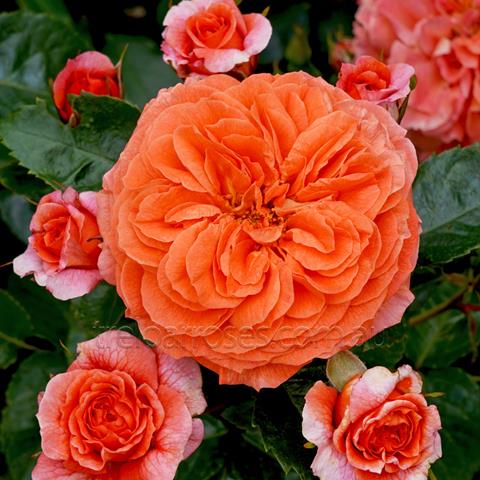 Orangerie
A truly spectacular, award winning rose with a strong stable colour and beautiful, healthy growth.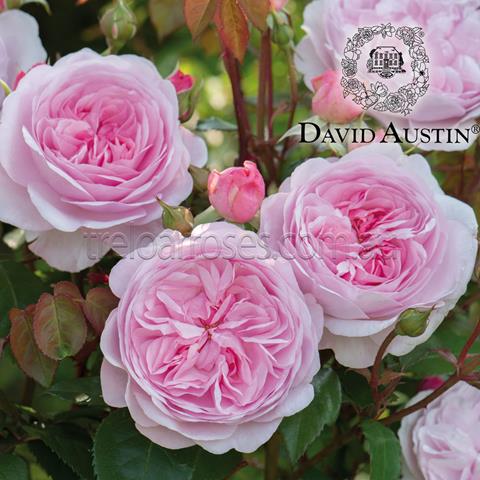 Olivia Rose Austin (David Austin)
A very healthy, well balanced bush with cupped rosette blooms and a great fruity fragrance.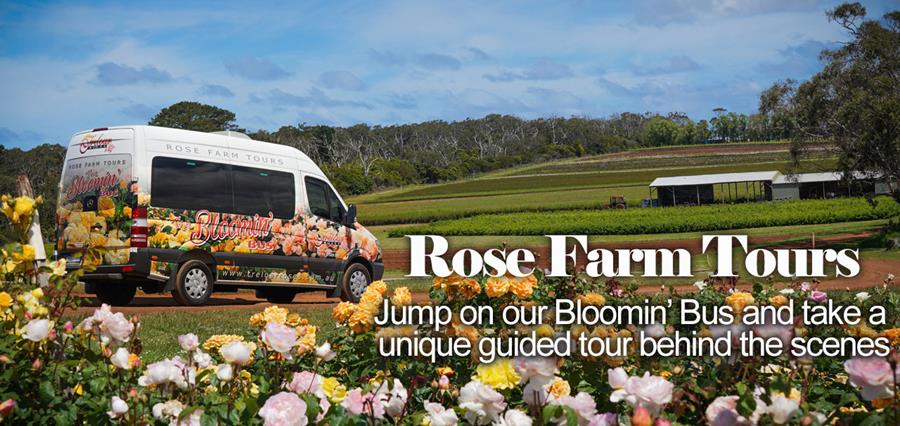 We are excited to announce that we are running farm tours. This is a unique opportunity to go behind the scenes on a guided farm tour of Australia's Largest Rose Production Nursery. Come and see where your plants began their life and enjoy the sights of hundreds of thousands of roses.
IMPORTANT SUMMER ROSE CARE TASKS TO REMEMBER:
- Dead Heading: remove spent blooms to encourage flower production
- Fertilising: one application of fertiliser
- Water: regular watering (see below)
HOW TO AVOID HEAT DAMAGE AND DEHYDRATION IN ROSES: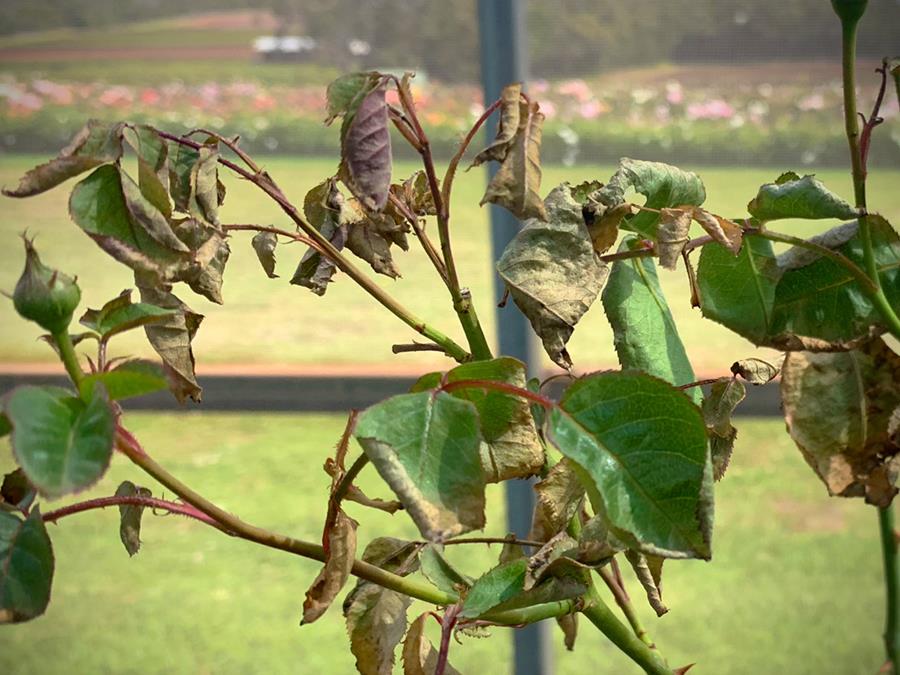 WATER, WATER, WATER!!!
I cannot stress this enough – water is the key to life! Correctly watering your roses is important and very easy to do. Watering your roses regularly and correctly not only helps to avoid heat damage but also improves growth, plant health and flower production.
Without adequate water during hot weather roses can enter a dormant like state where growth and flower production is slowed and foliage, stems and blooms can become wilted, crisp and burnt.
During hot, dry weather roses planted in the ground should be watered 2-3 times a week with a minimum of 10L each plant. As roses are deep rooted plants, a good soaking is the key, otherwise the water will simply not reach where it is needed. Try our bucket technique if you are unsure. The rose needs to chase the water down into the soil to encourage deep roots, so do not water each day as this encourages shallow roots and your plant will not be insulated against the surface heat.
Bucket technique:
Get a bucket that holds approximately 10L of water and puncture 3 or 4 small holes in the base.
2. Fill the bucket with plain water and place directly next to the plant, move aside any mulch before placing down the bucket.
3. Allow the water to completely drain from the bucket. This gives the plant a good deep soaking.
4. Do this twice to three times a week. (increase to three as the weather gets hotter)
It is best to water your roses the evening before a hot day as this gives the plant time to absorb the moisture and distribute it throughout the foliage prior to the heat. Just allow time for the rose to dry off before the night sets in.
Click on the button to learn more.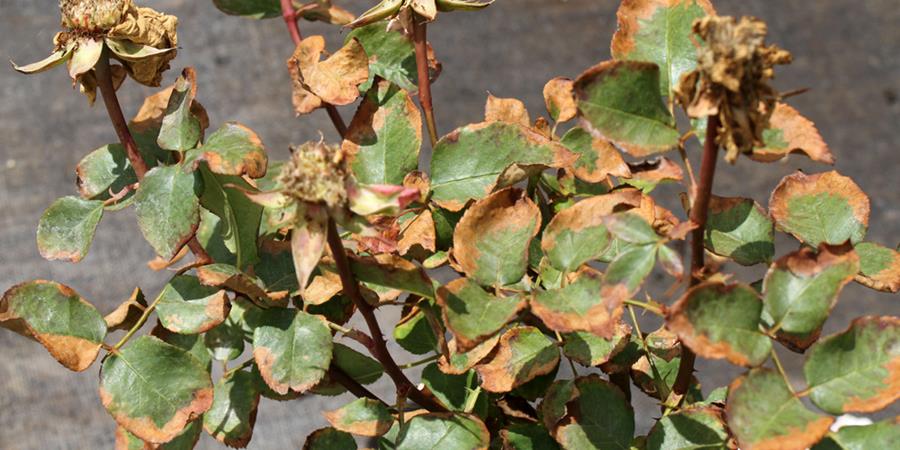 AVOID ADDITIONAL HEAT
Features such as stones, brick / tin walls, concrete, metal star droppers, etc. heat up very quickly during warm weather. If your roses are positioned too close to anything that radiates heat it can cause further burning and heat damage.
Remove anything from the surrounding environment that can radiate heat. If this is not possible (for example your rose is planted in front of a brick wall) provide the plants with some shade and keep well hydrated. On extreme days, rose experts have been known to shade a favourite rose with a beach umbrella. In the warmer areas, think of putting your rose in a position with mid-day shade. The 6 hours of direct sunlight does not have to be all at once. Three hours in the morning and three in the afternoon is quite acceptable.
An issue we see too often is the use of metal star droppers to support standard roses - far too many plants die as a result. As metal can heat up very easily, when it is directly touching or positioned very close to the stem, it can cause burning which will decrease sap flow. On a hot day, place your hand on the metal stake to see what your roses are dealing with. If you are in a hot climate it is very important that you use supports made of wood or similar materials that do not transfer heat.
MULCH
Mulch on your garden beds help the soil to retain moisture and keep the temperature down. This is highly beneficial to roses during the warm summer months. Depending on the type, we recommend around 5 cm deep on the garden bed.
The biggest mistake we regularly see is the use of pebbles or stones as mulch, they heat up easily, increasing the temperature of the soil. They also harbor spider mites and other pests.
Follow link for alternative mulching materials.
FOR POTTED ROSES
Pots provide the roots with very little insulation which can cause burning in the roots. In addition, potting mix dries out quickly.
Potted roses need to be watered daily during hot weather. If you have placed rocks at the bottom of the pot for drainage, having a tray under the pot to catch excess water will help keep the potting mix moist during the day.
Mulch top of pot. A layer of mulch will help also the potting mix retain moisture.
As the roots do not have a thick layer of soil between them and the hot sun, keep the pot in the shade during the heat of the day. Also, ensure that the pots are positioned away from brick or tin walls, concrete floors, stones/pebbles, etc. to avoid additional heat near the pots.
GLYPHOSATE DAMAGE
Also known as Roundup damage. Glyphosate is the main ingredient in many herbicides (weedkillers). Many are not aware of the severe damage this product can have on roses. Glyphosate can drift long distances on the breeze to still effect rose plants – only a little is needed to cause harm.
Symptoms include:
· stunted and weak new growth and shoots,
· tiny, discoloured and malformed rose buds
· rose buds not opening,
· spiky, deformed growth
In severe cases, young or heavily sprayed roses will not recover.
If the damage is not severe, the best action to take for is to remove any effected growth and water regularly. Keep removing the deformed growth as it appears.
The best thing to do is avoid the risk completely. Use organic sprays or alternative weed killing options. Use a dedicated spray container for weedkillers.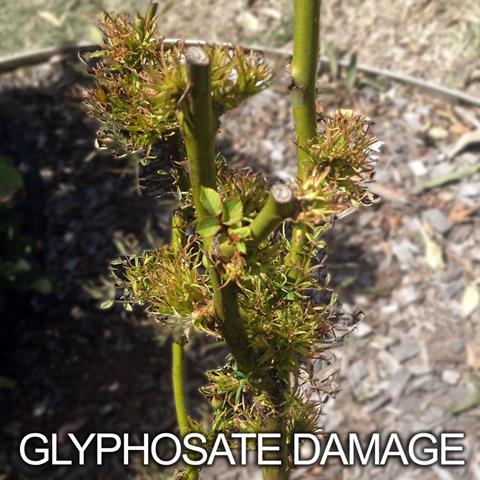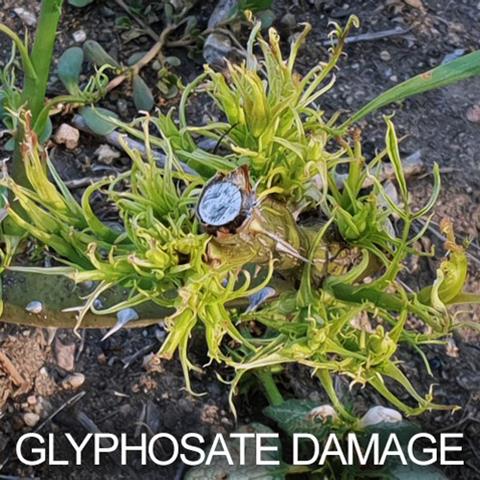 Remember, we are here to help! If you ever have any questions about your roses, please contact our friendly staff for assistance.
Happy Gardening,
Ellie Matuschka