Like the rest of Australia, we have watched with a heavy heart the devastation as our country burns. To all those that have been impacted, or continue to be, by this disaster, we wish to extend our sympathy, thoughts and best wishes.
We are currently assisting gardeners with advice to save any roses impacted by the fires. If your roses have been damaged by the fires, hope is not lost. Roses are incredibly tough, and we see many cases of survival against all odds. We encourage everyone in these conditions to reach out and contact us for assistance. We are more than happy to help.
For those not immediately impacted by the fires, it has still been a tough summer. Extreme heat and drought have many gardens in survival mode, waiting for the conditions to improve. If this sounds familiar to you, we have some excellent news and we've said it before, ROSES ARE TOUGH! In this newsletter we dive a bit deeper into how you can help your roses survive this summer and important summer rose care tasks.
IN THIS NEWSLETTER:
● 2020 New Releases
● Rose Farm Tours
● Summer Rose Care - Surviving This Summer Heat & Summer Tasks
2020 NEW RELEASES
We have an excellent range of new releases for 2020 and are very excited for you to enjoy their magnificence!

As always, our new releases have been trialled and tested for several years on our farm in Portland, Victoria, and have been noted for their superior disease resistance and flowering abilities. You can be sure by selecting any of the new release roses that you will have a tough and well performing rose as an addition to your garden.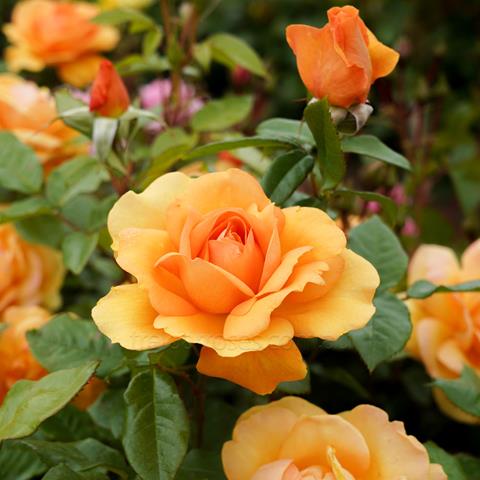 Golden Beauty
Gold in every sense! This exceptional rose has received Gold Medal and the 2018 People's Choice Award at the Nation Rose Trials.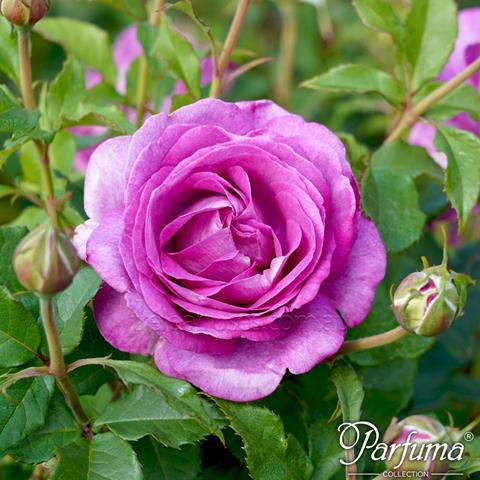 Adorable
A truly adorable rose! The latest addition to the Parfuma Collection and has been awarded the 2019 People's Choice Award and more.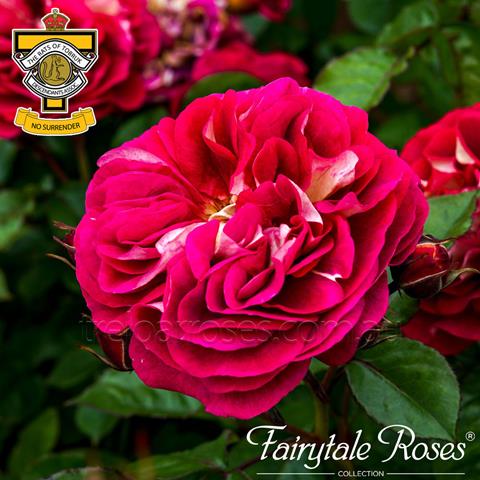 No Surrender
This extremely tough and hardy rose is aptly named to commemorate the 80th anniversary of The Siege of Tobruk' in April 2021.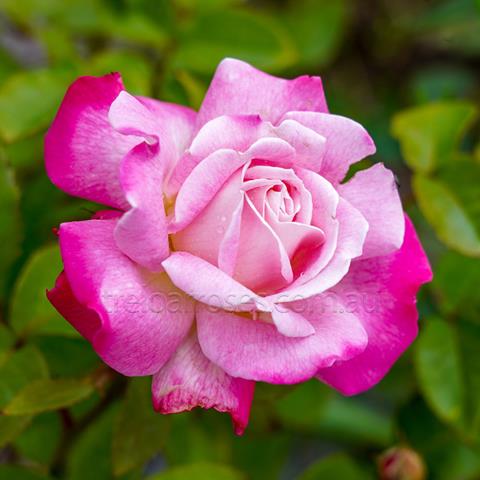 Beautiful Girl
A romantic colour combination! This spectacular grandiflora is another extremely healthy, disease resistance rose bred by Kordes' Roses.⁠
We have many more incredible new releases this year. To view them all, please follow the button below.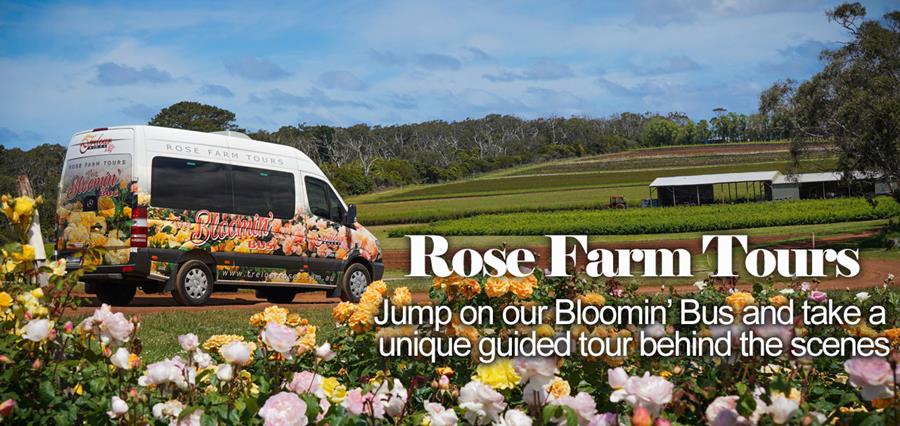 Jump on our Bloomin' Bus for a unique opportunity to go behind the scenes on a guided farm tour of Australia's Largest Rose Production Nursery. Come and see where your plants began their life and enjoy the sights of hundreds of thousands of roses.
HOW TO SURVIVE THE SUMMER IN EXTREME HEAT AND DROUGHT
Roses are a very hardy plant. Established roses can withstand almost anything, drought, scorching sun and even fire. However, it does not always mean they will thrive through these conditions, especially if the plant hasn't been in your garden long or is planted in a pot. Many gardens with restricted water and extreme heat have entered survival mode. This means the aim is to simply keep the plants alive until the conditions improve (hopefully late summer or autumn). This is really very easy with roses. Even if the foliage has burnt or stems have been lost, if the graft is still alive your rose will survive!
Our tips to make it through survival mode:
Use grey water. Make sure you do not use detergents with high phosphate levels.

Water using a dripper system or the bucket method.

Do not use soaker hoses!

Avoid using hoses, watering cans, sprinklers, etc.

If water is heavily restricted, consider only watering your favourite or younger roses.

Water early in the evening. This gives the rose a time to absorb the moisture and distribute it to the growth areas before the scorching sun returns.

Do not water daily. Keep water to twice a week for young plants and once a week for established roses.

Try and give each rose about 10 L (a bucket full) of water each time. If this is not possible, just do the best you can. Anything will help. But make sure you are providing enough for the water to reach the roots.

Additional tips for potted roses:

Water daily. Provide just enough so you can see the water draining out the bottom of the pot. You can use a hose or watering can for potted roses.

Do not position pots next to brick, tin, stone or any surface that radiates heat. This can cause further damage to your rose.

If possible, move the rose into a position which receives shade during the heat of the day. A pot trolley is a great addition to help in moving them.

Use a good layer of mulch. We suggest sugar cane mulch or Whoflungdung.

Do not use pebbles, stone or rock as mulch.

Do not use star droppers or metal poles to support standard roses. Try putting your hand against one in the heat of the day.

Avoid removing burnt foliage until conditions improve. Even though the foliage is dead, it is offering shade to the base of the plant.

Remember, roses can get sun burnt to. This will show as a black mark on the stem. This does not mean that the stem is dying. Blooms can also be sunburnt.

If your roses have been recently planted or you are concerned, offer the plant some type of shade during the heat of the day.
Once the weather cools and conditions improve:
Give the impacted roses a prune. Remove burnt foliage and give the stems a good prune.

When cutting the stems, they should be white through the centre. If the stems show any browning in the centre, trim a little further until it is white.

Remember, if the graft is alive your rose will survive.

Water 2-3 times a week with a good deep soaking.

Give the rose a foliar feed to boost regrowth. Try spraying them with Charlie Carp. If no leaves then water in beside the rose. Seasol is good as well.
IMPORTANT SUMMER ROSE CARE TASKS:
If you are lucky enough to have enough water to keep your garden thriving this summer, then it is business as usual for your summer tasks.
Water regularly – encourage the roots to grow deep into the soil where they are well protected from the heat. See below for more information. Water potted roses daily.

Dead head - Dead heading is the process of removing spent flowers. Old flowers left on the bush will begin to turn into hips and seeds, taking up most of the plant's energy. The removal of spent flowers encourages more blooms, maximising flower production. Snap or cut off the flower where the first leaflets are found.

Fertilise – if you have not done so already this summer, fertilise your roses now. We recommend Sudden Impact for Roses by Neutrog.

Spray regularly – spray to prevent pests or diseases rather than treating them after they have become present on your plants. Pests such as spider mite are very common in hot dry weather.

Climbing roses - continue to tie up and train climbing varieties. Remember to keep the canes as horizontal as possible to encourage flower production.
SUDDEN IMPACT FOR ROSES
A highly recommended rose food that is ideal for all flowering plants - not just your roses!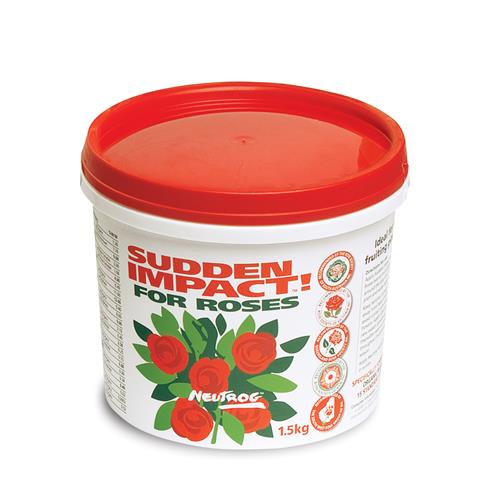 HOW TO ENCOURAGE ROOTS TO GROW DEEP INTO THE SOIL
Roses are naturally deep-rooted plants. This allows them to survive through drought and extreme temperatures as the roots are well insulated from external conditions. However, certain watering practices encourage roots to stay near the top of the soil.
How to encourage the roots to grow deep into the soil:
1. Water twice a week, evenly spaced, regardless of the weather or time of year. Three times a week for them to thrive. Exception to this rule is when heavy rainfall is experienced.
2. Provide a deep soaking in each session. The recommended amount is approximately 10 L each plant (this is about 1 bucket full).
The roots will grow where they find water. We want to water enough so that the bottom layer of soil stays moist, but the top layer dries a little.
Other tips:
DO NOT water each day. This encourages the roots to stay at the top of the soil and not grow deep down.

For the same reason as above, DO NOT use a soaker hose or other similar lawn sprinklers. They do not provide water in a way that soaks it deep into the soil and it is unlikely to reach the roots.

Use a dripper system. This is the ideal way to water your roses. It applies water slowly to the soil in one location and offers a deep soaking.

If you don't have a dripper system try the Bucket Technique. Get an old or cheap bucket that holds 10L and put 3-4 nail sized holes in the base. Place bucket next to the rose and fill it with water. Allow bucket to drain completely.

To check if you are watering enough, dig a hole slightly away from a plant after you have watered normally. The hole should be shovel depth (30cm or so). If the soil is dry at the base of the hole, then you are not watering enough. If it is moist then you are doing the correct watering.
Need more information on rose care? Our website is packed full of helpful rose care information and tips.
We are available all year to answer your rose questions and assist with your rose issues. Contact our friendly staff by phone or email to chat with us.
Happy Gardening,
Ellie Matuschka