Lion's Rose

Modern Shrub Rose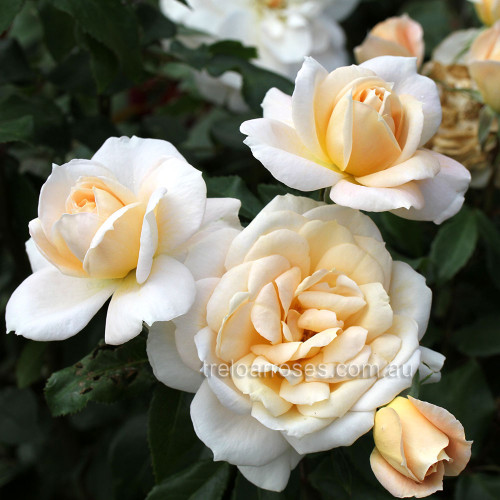 (KORvandaber) - We cannot over emphasise the quality, health and flowering ability of this beautiful shrub from Kordes. The fully double creamy white blooms open with a breath of apricot and are produced in clusters of 3-5. There is a slight, pleasing fragrance and the glossy foliage is highly resistant to blackspot and mildew. Decorated with Gold and Silver medals in international rose competitions, this elegant variety will bring real pleasure to every garden. 1.2m tall.

From 2013 and beyond, Treloar Roses will donate $1.00 from the sale of each rose to the Australian Lions Childhood Cancer Research Foundation. Their mission is to prevent kids with cancer dying by raising funds nationally and donating these funds to the best scientific and clinical childhood cancer research conducted right across Australia. For further information visit:- Australian Lions Childhood Cancer Research Foundation

Plant Information
Category
Bush Rose
Breeder
Kordes' Roses
Kordes' Collections
Fairytale Roses® Collection
Affiliated Charity
Australian Lions Childhood Cancer Research Foundation
Features & Growth Habit
Treloar's Health Rating
4 Star Health Rating
Growth Height (approximate only)
1.2m
Rose Type
Modern Shrub Rose
Ideal For
Borders & Hedges
Yes
Hot & Dry Climates
Yes
Shaded Areas
Yes
Tropical Climates
Yes
Other
Disclaimer
Every care is taken to provide accurate descriptions and information on each variety. Please note that characteristics will vary depending on the growing conditions. The information provided below may not be completely accurate for your climate or growing conditions.
The colour images and descriptions are to be used as a guide only. Every care is taken to accurately describe growth habits and reproduce the correct colour in images. However, other factors such as Australia's varied climatic conditions, seasons and soil type can affect blooming and rose growth.