Eco Neem 100ml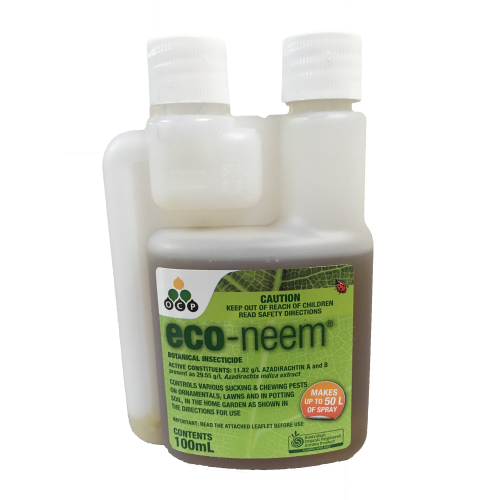 Controls chewing and sucking pests in the home and garden.

Totally ORGANIC & Safe for beneficial insects like bees and ladybeetles!

An organic insecticide made from the extract of the neem tree seed which is combined with other plants. The active ingredients in eco-neem (Azardirachtin A & B) are the most effective natural insecticides commercially available and control a broad range of chewing and sucking insects.

This fantastic product works by suppressing the appetite which results in starvation, also distorting growth cycles.

The eco-neem is not a knock-down insecticide as insects take a few days to die. During this time, they stop feeding so no new damage occurs. They are also weakened and become easy prey for other insects and larger predators like birds and lizards.

Eco-neem must be ingested for it to work which makes it safe for good insects which do not feed on plant foliage. There is no secondary poisoning, therefore, it is safe for other predators to ingest affected insects. Eco-neem is also harmless to larger creatures like birds, lizards and pets.

You can also use eco-neem on edible plants. Currently the Australian regulatory body (the APVMA) has only approved eco-neem for use on ornamental plants. This is similar overseas with many other regulatory bodies approving eco-neem for use on edible plants with no withholding period.
 
Natural insecticide with a broad-spectrum activity (registered overseas to control over 200 pest insects)
100% plant oils and extracts
Unique modes of action make it affective on insects which developed resistance to other sprays
Safe for beneficial insects like bees and ladybeetles
eco-neem is a concentrated and purified form of neem oil with increased stability and shelf-life
Registered organic